CANUS Custom Fabricates and Repairs Plastic Tanks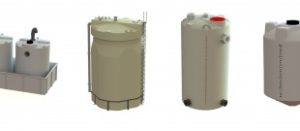 CANUS Plastics can supply off-the-shelf plastic storage tanks that are custom modified to suit your needs. We can also repair tanks at our shop in Ottawa or at the customer site. We are partnered with world-class suppliers of polyethylene tanks of all sizes and types with many models available within two to three business days. And our tanks can be ordered with all the expected accessories such as ladders, fittings, mixer mounts and supports. All tanks come in either industrial or commercial grade and with open or closed top options.
All of our tanks are designed and constructed to Canadian and American Standards and include:
Vertical Tanks
Horizontal Tanks
Rectangular Storage Tanks
Containment Tanks
Cone Bottom Tanks
Double Wall Tanks
Self Contained Tanks
Our materials include polyethylene (PE), PVC, CPVC, Polypropylene, PVDF and others upon request. No tank job is too big or too complex for CANUS.