We offer a range of healthcare related products.
Our biochemical containment boxes are designed to ensure the maximum possible level of safety and security when handling hazardous substances. They can be used in a variety of situations in which it is necessary to store and handle a potentially dangerous or contaminated object.
The box is completely airtight, and is transparent in order to allow for the contained object to be thoroughly and safely examined. A pair of gloves is integrated into the design of the box, in order to allow the object to be manipulated if necessary. This allows the box to be used to handle and study hazardous biological and chemical substances without danger to those nearby.
Further information regarding the composition and dimension of the box can be found HERE.
Please contact us to determine if the box is appropriate for you needs, or to request further information or discuss a custom design.
We manufacture high quality phantoms for use in calibrating In Vivo monitoring equipment. We strive to ensure that our phantoms are consistent with Bottle Mannequin Absorber (BOMAB) standards, and further information on our specifications can be found HERE.
BOMAB phantoms consist of ten circular containers designed to emulate the mass of the human body. While they are not an exact replica of the human shape, they nonetheless provide an accurate test as they closely resemble the human form and can be moved as necessary.
We are able to provide a wide variety of phantom designs to stimulate various human body sizes in order to achieve the most accurate measurement possible. For more information or to request a custom design, please contact us.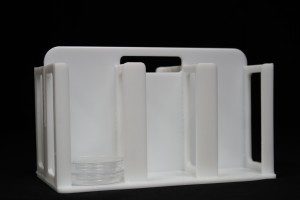 Our petrie dish holders add an element of organization and order to the lab environment. The holders allow dishes to be organized and stored in a logical fashion in order to avoid unnecessary confusion and potentially harmful errors.
The holders are made from high density polyethylene in order to ensure they are stable and long-lasting. Holders typically hold from 1 to 60 dishes, and measure 3 ½" in diameter.
Should you require a custom design, or more information on sizing, please contact us. Our knowledgeable staff would be happy to assist you in determining the best product to meet your specific needs.