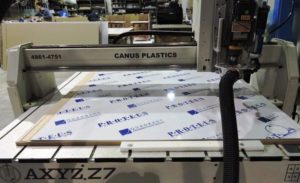 At our CANUS facility in Ottawa-Gatineau we invest capital and training into our CNC plastic machining capabilities and capacities. We use CAD/CAM (Computer Aided Design / Computer Aided Manufacturing) Systems to design and test your plastic part designs before they are downloaded straight into our CNC machines for processing. This process is efficient for lead time and workflow but also provides valuable feedback for cost estimates and design modifications so that we can keep our customers updated and advised of possible improvements.
Our CNC technology is extremely accurate and repeatable, often to within 5/1000ths of an inch (0.125 mm) over lengths up to 10 ft (3.05 m or 3048 mm)! With all kinds of plastics intricate curves, bevels and hole patterns are all easily machined on our CNC table routers. In 2013, we doubled our table router capacity in order to meet growing demand with our patented plastics product lines offered exclusively by CANUS. This will ensure that external plastics customers always have open capacity at our plant so that quality and delivery are never a concern. We are also now looking to add 5-axis CNC machining centers which are capable of rapid machining of a wide variety of plastic components with milling, boring, drilling, slotting and tapping operations.
At CANUS we can precision machine virtually any plastic listed on our website. Some annealing may be needed under rare circumstances to prevent warping, such as where large volumes of material are removed from very thick sheets, but our technicians are skilled in this area as well. Most metal machine shop suppliers will attempt precision machining of Mechanical Plastics as these are well suited for the purpose but this often yields questionable results. We feel this greatly limits options for customers so we have chosen to focus and become skilled with all plastics. In fact we have advanced our learning to the point where Ottawa-Gatineau metal machine shops now refer the more challenging Ottawa plastics work to CANUS.